880SH Single Head Bonding Machine
General Details
Specification
Accessories
Inquiry
Documents
Related Products
General Details
MD-880SH Single Head Bonding Machine is designed for LCD/LED  TV repair, which can solve the problem of ACF/COF/TAB fault, the function of MD-880SH is replacing, bonding, re-bonding COF/TAB on LCD glass and PCB .
The bonding machines includes below models:
Which machine should I choose and what's the difference of the two machine?
What is ACF/COF/TAB fault?
There is a picture below to show the ACF/COF/TAB fault of LCD TV.
There are some COFs/TABs to connect LCD glass and PCB boards, which called X COFs and Y COFs, some times vertical or horizon lines(bands) appeared on the LCD TV screen. On of the reason is the COF/TAB broken or disconnecting. In order to solve this problem, if the COF just disconnecting(not broken), use bonding machine to re-bond this COF; if the COF is broken(like chip broken), use bonding machine to replace it with a new COF.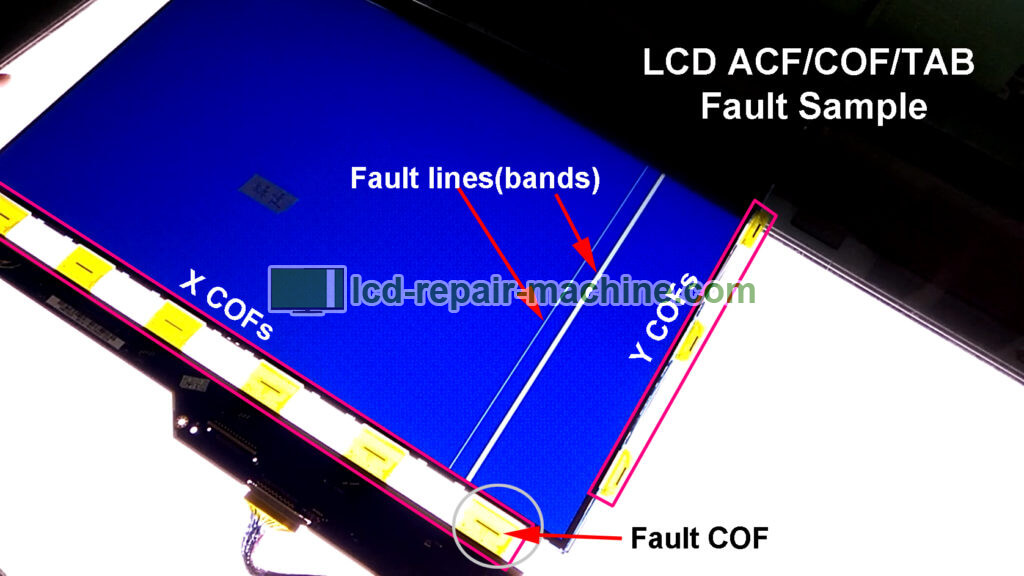 What's the payment and delivery time?
Payment: Terms EXW/FOB/CIF, by T/T, 100% deposit in advance (Recommend), Or 50% deposit and 50% paid before delivery
Delivery time: About one week.
How about the warranty?
Usually we provide 1 year standard warranty and whole life technical support.
How about the training?
We provide two training method: factory training and video training.
More detail please see here: Training
How you packing the machine when shipping?
LCD TV Repair Bonding Machine Package
How can I install the machine after I received?
Here is a video of MD-880SH disassembly procedure. You can refer to it and do the opposite procedure.?
MD-880SH Disassembly Procedure
LCD repair bonding machine introduction for repair LCD TV demo video?
Inquiry
Specification
MD-880SH Specification—–
Single Head Manual platform Automatic Pressure Machine
1) Equipment Model Number:
MD-880SH (Single Head)
2) Device Description :
Repair screen machine / Bonding machine
3) Device Uses :
FPC? COF?TAB? LCD Panel and PCB combination bonding
4) Applicable LCD panel specifications :
15″-65″
5) Applicable LCD panel thickness :
0.3MM-1.1MM[Single glass]
6) Bonding IC number :
Multiple / Panel Can be set
7) Bind direction :
X or Y Unidirection
8) Bonding IC size :
Replaceable blade according to IC specifications (The original machine is equipped 50X1.5X10)
9) Device processing time :
TFT?3.8S/chip
10) Production Beats :
TAB?100 pcs/H
11) Bonding Accuracy :
Within ± 1.5?m (support 4K screen)
12) Highest positioning accuracy setting :
±0.5?m (Currently domestic the highest index)
13) Equipment requirements the work environment :
Clean, No dust, Clean room
14) Supply Pressure :
0.5~0.7Mpa (Dry air source)
15) Power Supply :
AC 220V±10%?50HZ?1200W
16) Cylinder Device :
Japan SMC original thin cylinder MXS20-75/MXS20-100
17) Heating Type :
Pulse (rapid heating / cooling and auxiliary cooling function)
18) PID Temperature Control System :
Brand: Yamatake (C36TV0UA1200 model)
Adjustable heating curve Duty Cycle setting type
The peak temperature : within +/- 2 degrees Celsius
Room temperature time to 180 degrees the response time within 2-3 seconds
19) Hot pressing head :
Materials: Japan Titanium
origin: United States 50*1.4*10
Plane precision (hot press side) :0.001mm
Plane thickness 0.5 (Reserved 3 times grinding)
20) Thermocouple Type :
K type Original US OMEGA wire
21) Industrial control units / Programmer :
Import Panasonic PLC FX?C14T
22) Image unit :
Panasonic image processing system
COF counterpoint: down counterpoint
PCB counterpoint : have
Number of lenses : 2
Microscopy: 30-120 Continuous zoom
COF Display: 19-inch HD X2
PCB counterpoint the display : have
Upper light source : have
Down light source : have
23?COF trimming unit :
Origin: Taiwan
Rail Type: U-rail (2056 high)
Accuracy : 0.01
Adjustable direction :X/Y/R
R Itinerary : Coarse 360 degrees, fine tuning +/- 5 degrees
24?COF Fixture : COF mechanical clamping type, Z tilt radius micrometer trimming
25) Lens spinner unit :
Control mode: X / Y / Z micrometer control
Focus Adjustment: Manually adjust the focus
26) Position detection : None
27) Silicone / Teflon :
Manual switching position
28) LCD stage (platform) :
Manual sliding or fixed optional ,automatic stage can be customized
29) Alarm device :
Pressure abnormal/ temperature anomalies / thermocouple abnormal / action abnormal
30) Hot press head counterpoint :
Cylinder stop can be set at any position in the vertical direction
31) Control mode :
Touch screen + button operation Using Taiwan's Wei Lun touch screen dual-core
32) Parameter setting :
According to the need to set up Store multiple sets of hot pressing parameters
33) Rated voltage :
180-220 (customizable 110V)
34) Peak power :
400-1100W (Supports 68X1.5X10 lengthened tool bit)
35) Maximum power :
1100W
36) Actual power :
580W
37) Body size :
1800X1200x1520mm(L*W*H)
38) Machine weight :
300KG
Accessories
With MD-880SH, we provide the accessories below for free.
They are almost all the accessories needed by ACF/COF/TAB repairing, means no need buy other extra accessories.
| | | | | | | | |
| --- | --- | --- | --- | --- | --- | --- | --- |
| No. | Picture | Name | Model No. | Quantity | Unit | Specification | Remark |
| 1 |   | Single Head Bonding Machine | MD-880SH | 1 | Set | Single Head | 2016Year |
| 2 |   | ACF Anisotropic Conductive Film | AC-7206U-18 | 1 | Piece | 1.5X50M | Glass special |
| 3 |   | ACF Anisotropic Conductive Film | AC-2056R-35 | 1 | Piece | 2.0X50M | PCB special |
| 4 |   | Acetone Liquid | BT-H1 | 2 | Bottle | 500ML | |
| 5 |   | Absolute Alcohol | CH3CH2OH | 2 | Bottle | 500ML | |
| 6 |   | ACF Removing Liquid | G-450 | 1 | Bottle | 500ML | |
| 7 |   | Hitachi Blue Glue | | 1 | Bottle | 100ML | |
| 8 |   | Fuji Silicone | | 1 | Piece | 50M | |
| 9 |   | Teflon | | 2 | Piece | 50M | |
| 10 |   | Heating Solder Iron | | 1 | Piece | 30W | |
| 11 |   | Removing Wind Station | 825+Fan | 1 | Piece | | |
| 12 |   | Alcohol Bottle | | 3 | Bottle | | |
| 13 |   | TAB Cutter | | 1 | Piece | | |
| 14 |   | Optical Microscope | | 1 | Piece | | |
| 15 |   | LCD Test Board | HXV59 | 1 | Piece | | |
| 16 |   | Dial Test Indicator | | 1 | Piece | | |
| 17 |   | Allen key | | 1 | Piece | | |
| 18 |   | Air Compressor | OTS550 | 1 | Piece | | Mute Oil-free |
| 19 |   | LVDS | Common Specification | 1 | Piece | | |
| 20 |   | Cleanroom Wipers | | 1 | Piece | | |
| 21 |   | Cotton Swab | | 1 | Piece | | |
| 22 |   | Handheld Magnifier | | 1 | Piece | | |
| 23 |   | Precision Tweezers | Elbow? Straight | 2 | Piece | | High Hardness Hyperfine |
| 24 | | Training | | 4 | Days | | Free Training |