816SH Single Head Bonding Machine
MD-816SH Single Head Bonding Machine is designed for LCD/LED  TV repairing, which can solve the problem of ACF/COF/TAB fault, the function of MD-815SH is replacing, bonding, re-bonding COF/TAB on LCD glass and PCB .
816SH is Mini Version for those starting repair shop with low budget.
The bonding machines includes below models:
Which machine should I choose and what's the difference of the two machine?
What is ACF/COF/TAB fault?
There is a picture below to show the ACF/COF/TAB fault of LCD TV.
There are some COFs/TABs to connect LCD glass and PCB boards, which called X COFs and Y COFs, some times vertical or horizon lines(bands) appeared on the LCD TV screen. On of the reason is the COF/TAB broken or disconnecting. In order to solve this problem, if the COF just disconnecting(not broken), use bonding machine to re-bond this COF; if the COF is broken(like chip broken), use bonding machine to replace it with a new COF.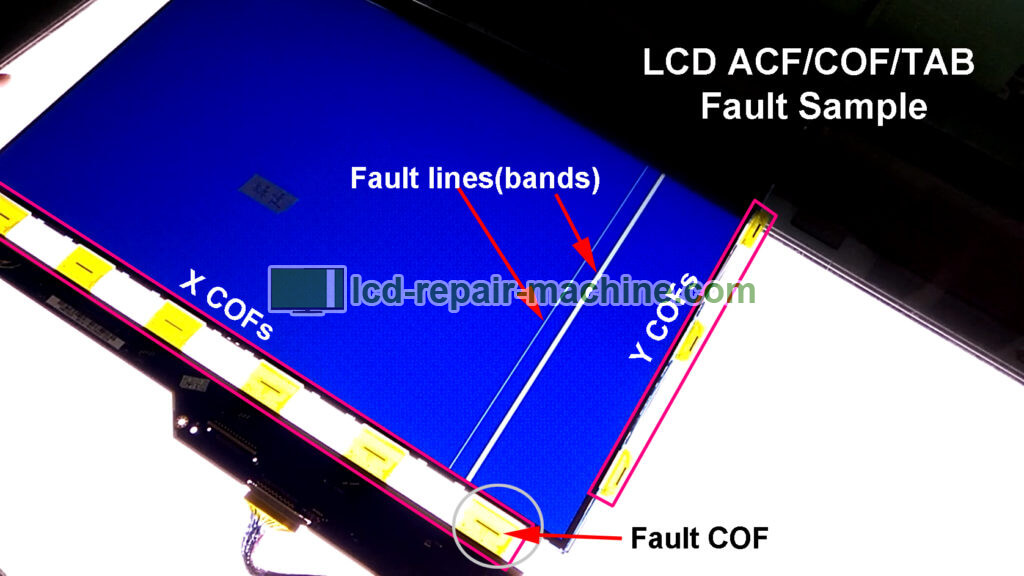 What's the payment and delivery time?
Payment: Terms EXW/FOB/CIF, by T/T, 100% deposit in advance (Recommend), Or 50% deposit and 50% paid before delivery
Delivery time: About one week.
How about the warranty?
Usually we provide 1 year standard warranty and whole life technical support.
How about the training?
We provide two training method: factory training and video training.
More detail please see here: Training
How you packing the machine when shipping?
LCD TV Repair Bonding Machine Package
How can I install the machine after I received?
Here is a video of MD-880SH disassembly procedure. You can refer to it and do the opposite procedure.?
MD-880SH Disassembly Procedure
LCD repair bonding machine introduction for repair LCD TV demo video?
Inquiry